Social Media World: A Weekly Round-Up
on
Apr 09, 2017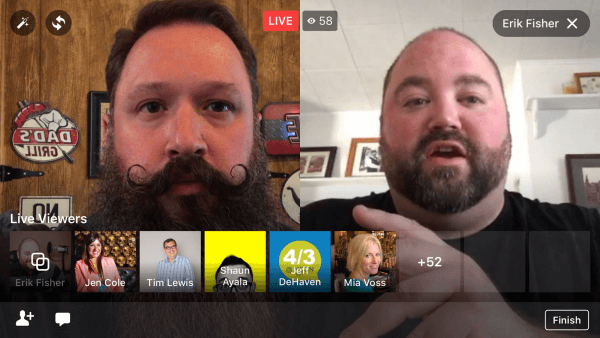 Facebook just tested their native split screen two-person Live Broadcasts! Not just that, they also tested the free version of Facebook Workplace which is the social networking tool for workers to chat and collaborate.
Here's a glimpse of what Facebook and other social media platforms were upto the last week.
Facebook tested split screen two-person Live Broadcasts: The feature is currently available to personal profiles on iOS. Select users can go live from their personal profiles and then invite another iOS user to participate in the broadcast as he or she begins watching. To see how it looks like, click here.
The social giant is also introduced a free version of Workplace, its social networking tool for workers to chat and collaborate. This free version would essentially have the same look and feel as its paid counterpart without features like administrative and analytics tools. The free version of Facebook Workplace will be called Workplace Standard and the paid version will be called Workplace Premium. Read more.
LinkedIn introduced lead gen forms: Want to generate leads from sponsored content on mobile? LinkedIn just made the task easier by launching lead generation forms, an effortless way to collect quality leads for your business from sponsored campaigns.
Rather than directing prospects to a cumbersome contact form on a smartphone when they click on an ad, the new lead gen form uses their current member profile information to automatically populate an in-app form that can be submitted instantly. Read more about the feature here.
Twitter released 'Share Location' feature via DMs: Using Twitter's Direct Message platform, businesses can now request and share locations with individual customers. In this increasing trend of bots, Twitter added this new human element to direct messaging and made it easier for businesses to tailor their responses and interactions with customers. Read more about the feature here.
YouTube removes ads from channels with fewer than 10K views: The platform announced that it will no longer serve ads on YouTube Partner Program videos until the channel reaches 10k lifetime views. It considers this to be an appropriate threshold to determine the validity of a channel and confirm if a channel is following YouTube's community guidelines and advertiser policies. Read more about the move here.
Do share your thoughts about these features and developments in the comment box.