10+ EPIC Moments
on
Sep 28, 2019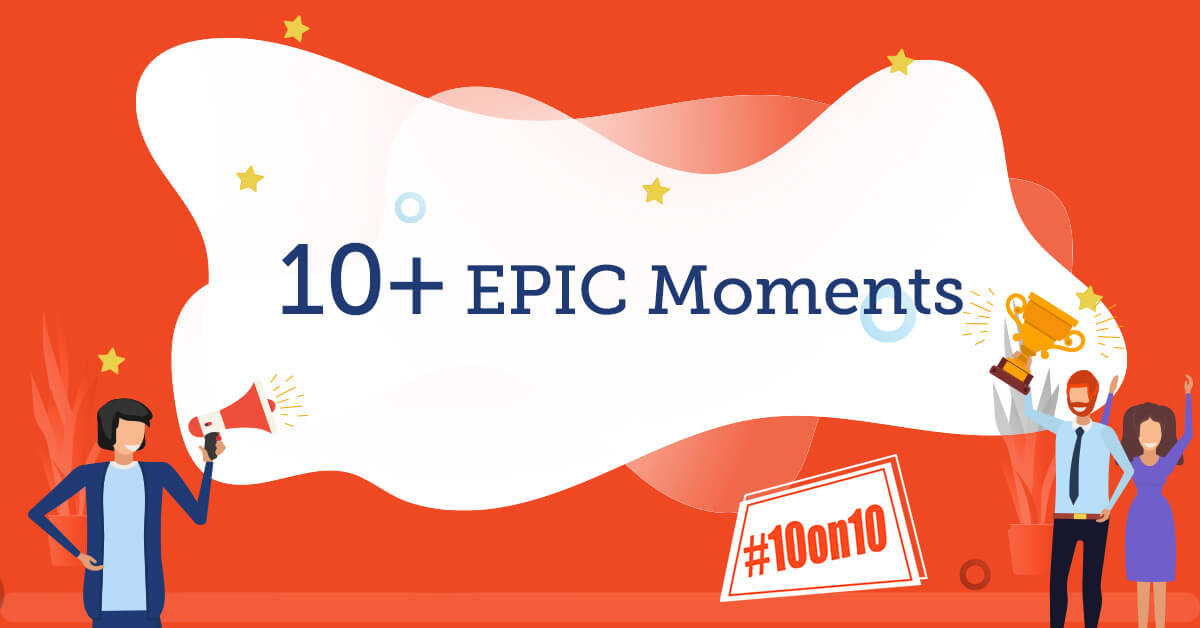 These are the moments that changed us as a company. These are what define us and our culture. These are what we will never forget.
Our belief in us – 1st October 2009: When we thought that the entire team will leave for the fears of job security. The old founding team was leaving the company and we had 2 Lacs revenue with 5 Lacs expenditure. No one and I mean no one left. Everyone did whatever they can as if they had a point to prove. As if they were all taken over by this ambition to show we can. That spirit has since become part of our inseparable culture.
Cash flow positive – 1st Jan 2010: We met with UPES, Dehradun and one of the key decision-makers in marketing asks what Facebook is. But the pitch is too passionate and he gives us a small starting budget with which we grow it into perhaps one of the earliest education success stories using social media in India. The only reason we were called for the pitch was that we had offered a genuine career advice to the then marketing lead who was looking at starting on his own before finally deciding to join UPES.
Big brands are us – 10th Sep 2010: We were talking to HBO for digital in the early days of digital and they asked us to present to Mudra for the recommendation (Mudra being the mainline agency for HBO). We shared the proposal with costs etc with Mudra transparently per HBO's request and as a testament to low ethics, Mudra sent a competitive bid to HBO claiming the ability to do it. HBO offered us a pilot at one-third our quoted price to test us. We took it on (we would have taken the pilot at free-of-charge as well). And we never looked back. We got to an overall relationship many times our initial quote and got our first BIG BRAND break with HBO.
Websites as an add-on – Dec 2010: We were called in as recovery agents for a website for Jagjit Singh Ji's world tour (needed to be completed in 2 days since the 3rd day was the launch in Mumbai). Not only did we complete it. We also got to go to Mumbai for the launch where Jagjit Ji's website was launched by Gulzar Ji. Just the chance to stand on stage and telling them where to click was worth everything. Sadly, Jagjit Ji passed away in the middle of this world tour.
Events & destinations – Feb 2011: We went to pitch for Kingdom of Dreams (during its prelaunch phase) and met with Viraf Sarkari (the head of Wizcraft, the brains behind KOD). Viraf entered the meeting saying I got 15 mins, can you finish in 10. An hour and 10 minutes later he said I need a bathroom break, can you hold for 2 minutes because I can't and we continue then. We knew we got our customer right there. It was an amazing few months working with them.
Nirbhaya and social for causes – Dec 2012: Our first big NGO break. Nirbhaya campaign we did as a pure OMLogic initiative but it led us to much bigger things. In 2013, we got the project for Delhi sustainable transport, where we created 4 legs, namely, Delhi for Women safety (safety), Delhi Loves Buses (public transport), Pedal on Delhi (cycling 7 NMT) and Delhi Says (celebrating Delhi). This became an incredibly successful initiative. Important to note that one of the key recommendations at that time was to do a pilot with e-rickshaws and motorbikes for last-mile connectivity (both currently in place).
Political social media – April 2013: One hot April day in 2013 was spent with us pitching for social media agency business for INC for 2014 national elections. In the final round were 10+ MPs (most of them cabinet minister level in the party) sitting as decision-makers. Being able to stand there and present with all of them listening intently was perhaps the biggest moment for us till that time.
The big office - September 2013: This is when we moved from being a boutique North Delhi based agency to a force to reckon with. A sprawling 4000+ sq ft carpet area luxury office in the middle of the most expensive real estate in perhaps the whole world (Connaught Place). We were on cloud 9 and growing like there is no tomorrow. 40 people, 50 people, 60 people…And in a few months, we were not working with Congress anymore. We had made our mark, got our experience and we were out.
The big Vivo break and break – Oct 2015 to Sep 2016: We won Vivo which went on to become the official sponsor of IPL and hired Ranveer Singh as the brand ambassador. We did both the Ranveer launch and IPL launch with them. It was incredible. It was fun. It was too good to last and it didn't. Difficult to put the blame but this is where we lost focus. Next couple of years, we just survived (we were profitable and all, but we were not the same OMLogic people loved)
The lowest point – 2018: The downfall that began with Vivo exit took time to realize, manifest, infest and take us down with it. Somewhere along the way, we lost focus. We lost the drive to make it big and succeed. We had so many team issues that the company kinda lost purpose. We didn't fail since our foundation and beliefs were strong, but we went wayward. Every few months we will try to get out of the ditch, but it will keep increasing on us.
Next phase of OMLogic – Unsure when it began: This is when we decided to take our destiny into our hands. And we had some incredible Chinese friends with big ads money to help us along the way. They solved our profitability concerns, gave us the needed lifeline and here we are. The team is happier, the customers are satisfied, the environment is lit and the work is innovating itself…To the MOON!
Who is "Always Late" at OMLogic? - 10/10 The Next Digit !