Empowerment Is Just A Click Away!
on
Nov 20, 2014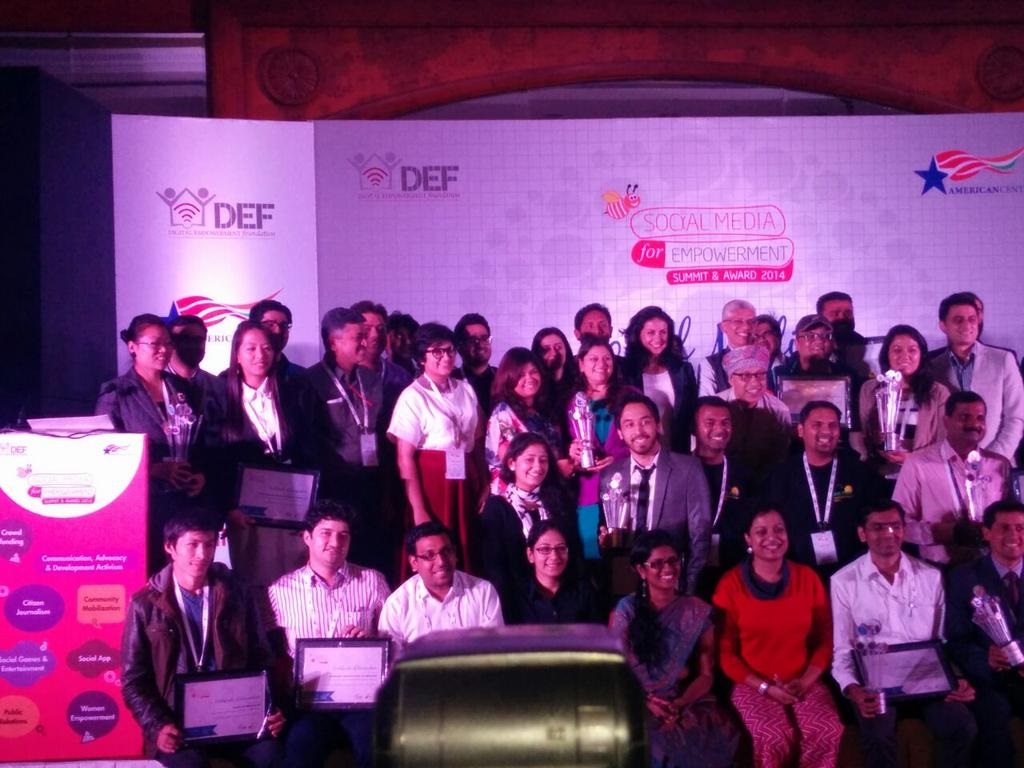 Social Media For Empowerment Summit 2014, was a gathering to recognize, commend, encourage and award those who are using social media as an empowerment tool. And it was only natural for us to be their digital partners in this event that celebrated such a nobel cause.
It is extremely encouraging to see NGO's and initiative owners using social media for social empowerment. The event that took place in Eros Hotel, Nehru Place was bustling with entrepreneurs, industry experts, professionals and ofcourse social media enthusiasts. The nominations were selected from eight South Asian countries that are using social media as an enabling tool for development and good governance.
The various award categories were community mobilization, crowd funding, social commerce and enterprise, citizen journalism, public relations, women empowerment, social apps, games and entertainment, communication, advocacy and development activism.
The only drawback we saw is that most campaigns were still focused on using celebrities and their social media influence to generate conversations.
"Social empowerment is what social media is all about. I am very excited to see NGOs and people working at the grass root level embracing social media the way they have. Still, there is a long way to go. Looking to see bigger things in 2015. We need to use the collective power of the supporters for the initiative to generate influence versus relying on celebrities. ADVOCACY should be the keyword", this is what our CEO, Kapil Gupta had to say about the event who was also one of the elite panelists at the awards ceremony.
The inaugural session was followed by presentation sessions, where the finalists talked about their initiatives and empowerment stories. The campaigns and initiatives were simply exceptional and thought provoking.
Here is a list of initiatives that we liked the best!
Whisper's 'Touch The Pickle Campaign' – A brilliant campaign to break the taboos and stereotypes associated with periods. If girls don't let any force in the world stop them, why should some senseless "don'ts" hold them back. So go ahead and #TouchThePickle.
MARD – Men Against Rape and Discrimination – A social initiative designed to create awareness to instil gender equality and respect towards women.
Better India – An initiative that talks about positive news, happy stories and unsung heroes. And by doing so, they have built and inspired an awesome community of people who are always sharing ideas with each other, helping each other with resources – and are collectively doing good.
POOCHH – A Natural Language Processing engine that can answer questions of any kind. Questions about life, people, studies, history, facts, news, food, weather, travel, language, and more. Unlike Google, Poochh gives you not links but usable or exact answers.
Gurgaon Police App – Yes, they have one! You can get emergency police assistance, report traffic trouble directly to the Traffic Control Room and the app also lets you review and give feedbacks to the autowallahs. So, the next time you are travelling to Gurgaon, don't forget to use this app.
Tweet For Cause Nepal – An initiative to help the underprivileged people by donating 20 paise per tweet. Follow them @tfcnepal and help spread smiles around.
Board The Bus - An initiative by Breakthrough encouraged women to get on the bus for a safer city. Their mantra was "Ditch the auto. Drop the bike. Leave the car. Get on the road to a safer city."
Activist Gul Panag was the keynote speaker for the awards gala, she congratulated the winners for their efforts to make a better society and said, "Empowerment is about challenging stereotypes and social media is the best tool to do so" and we couldn't agree more! J
In the future we hope to partner again with Digital Empowerment Foundation and many such NGOs who work continuously to empower the bottom of the pyramid and make this world a better place. :-)