Tweet Chat - How Start-ups Can Leverage Social Media
on
Apr 18, 2016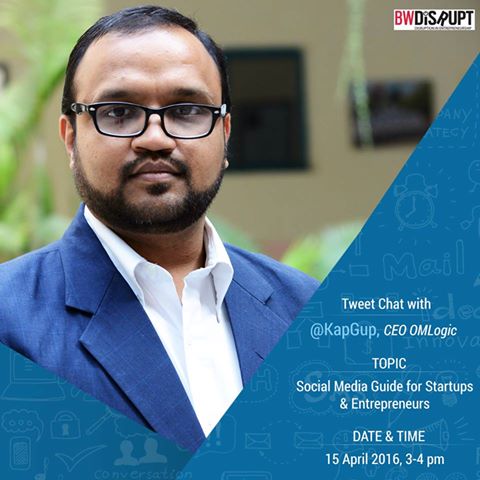 As a digital agency, having worked with clients from all spheres of businesses we have done Tweet Chats for long and love the ability to provide insights and value to people through Twitter.
So, when BWDisrupt expressed their desire to hold a Tweet Chat for young entrepreneurs and start-ups led by our CEO Kapil Gupta, we knew we had to do it. A Tweet Chat on 'Social media for start-ups & entrepreneurs' with start-up owners and entrepreneurs from across the world was bound to be interesting & buzzing. Entrepreneurs belonging to extremely varied array of industries (from technology to healthcare) joined us on 15 April 2016 on Twitter.
A whopping 50 questions were asked in a 1 hour time by young entrepreneurs related to social media for start-ups and all of them got answered. From what type of content to which type of ads, the young twitteratis asked anything and everything we could think of. Our CEO, Kapil had a great time tweeting away his knowledge and expertise in the area while engaging in healthy conversations with fellow digital marketers. See some of the conversations in the image below.
Tweet Chats do help everyone in the ecosystem stay abreast with latest changes and dynamics of the industry. A healthy two-way communication over Twitter with industry thought leaders and practitioners can definitely help start-ups plan their way ahead and remove the tremendous amount of confusion that exists around such topics.
The Tweet Chat with BWDisrupt has been a fairly good one and we're already looking forward to similar successful collaborations with them. We would like to thank each one who participated in the Tweet Chat and special thanks to BWDisrupt for having OMLogic as the host.
Missed asking your query? No problem! Tweet your questions to @Kapgup and he will certainly answer your questions.