The Ultimate Cheat Sheet For Festive Season Campaigns
on
Sep 20, 2017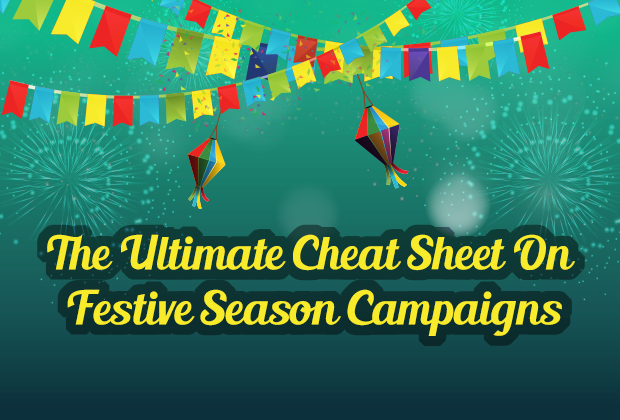 Navratri marks the beginning of the official festive season of India. And with this begins the great Indian marketing (read discount) league. Newspapers, radio channels, television channels and social media platforms, are full of messages like 'never seen before discount', 'the big discount sale', 'enjoy maximum discount only with us'. And with social media, it looks like a war cry and oh there is bloodshed – purely in terms of a brand's capacity to spend more. Amidst this, what brands miss is the fundamental question – what of it?
So, if you are wanting to make your presence felt this festive season via social media, here is the ultimate cheat sheet.
Innovate. Innovate. Innovate.
Innovate to declutter and stand out! As Thomas Edison once said, "There is a way to do it better – find it!", that is precisely what you need! Come with a better way of marketing your product/services – great discount is one aspect of your overall marketing, don't make it the way of life. Innovation is key to disruption. And you can either disrupt or be disrupted.
Turn the traditional shopping/gifting experience on its head
It's not about the typical what will you gift this Diwali. It is about invoking the holier than thou holiday spirit amongst the audience. The entire shopping/gifting experience should be for them to extend their happiness and holiday celebration, not to get them in the holiday mode. Non-traditional gifting is a great opportunity for all kind of brands (value based versus price based).
Run local and targeted awareness ads
Go local in your approach – from Facebook ads to Instagram ads to Google search, ensure you add a dash of local in your content and creatives. This will help you reach the right target audience, create brand visibility and increase sales.
Ensure your content has both emotional and physical call to action
Content is the biggest asset – ensure the content designed for festive season appeals to both the right side and the left side of the consumer's brain. The perfect mix of emotional and physical call to action is what makes the content shareworthy.
Be the festival spirit epitomized
Everything from the look of your page to the tonality should reflect the holiday spirit. Your customer service and other touch-points need to match-up to this expectation. Make people feel special, specifically during this time.
We hope you have a fabulous festive season and just in case you are struggling with the right campaign, well, our team of experts would love to help you! Drop in a mail at info@omlogic.com or drop by to our office in Connaught Place.