Social Media World: A Weekly Round-Up
on
Feb 26, 2017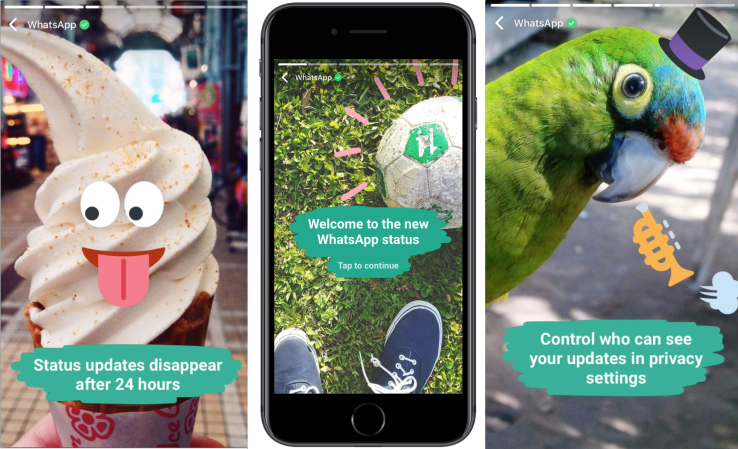 Noticed the new 'Status' feature of WhatsApp?
It drove internet crazy in the week that was!
While WhatsApp changed everything with its new 'STATUS' feature, Snapchat started selling spectacles online. Catch everything that happened in the social media world last week.
WhatsApp launched 'STATUS': Finally, the users can bid adieu to the text-only status updates on WhatsApp and amp up the game by sharing photos, GIFs or videos replete with drawings, emojis and a caption that will be visible to selected friends for 24 hours, before disappearing. Did that sound like Snapchat? Check out what this new feature is all about here.
Snapchat starts selling Spectacles online: Snapchat started selling its camera-equipped sunglasses on its website. Anyone in the US can order a pair of the $130 glasses, which record 10-second video clips and connect to the Snapchat app. You can read more about this here and hope that it's launched in India soon.
Instagram now allows 10 photos and videos in a single post: Instagram announced that users can now "combine up to 10 photos and videos in one post and swipe through to see them all." A new icon on the Instagram app allows users to select multiple photos and videos, which can then be reorganized, edited, or layered with a filter one by one or all at once. A row of blue dots at the bottom of these posts indicates to your followers that "there's more to see." Catch all the action here.
Facebook announces new Messenger Platform policies: With an objective to provide more defined engagement models on the platform, including time-based criteria for businesses to respond to messages and standards for subscriptions in Messenger, new policies have been announced last week. These include giving businesses a 24-hour window to respond to live chat messages initiated by customers in Messenger with standard messaging and continuing to test subscription messaging, to learn more about people's subscription preferences before fully opening this capability. Learn more about the policies here.
While you update your apps to try these features, don't forget to share your thoughts about them in the comment box.