Shining out with DAV Society
on
Feb 26, 2016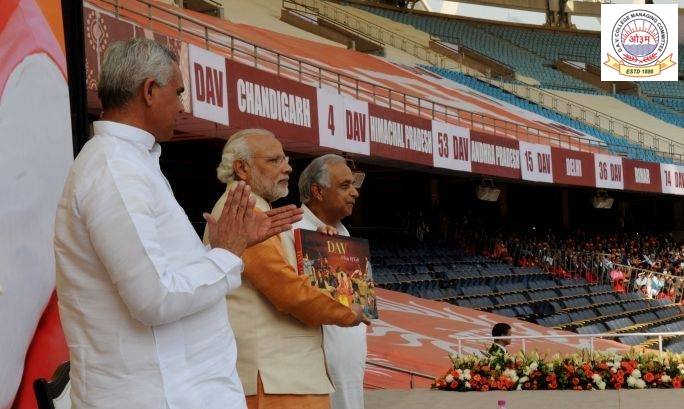 As talked about in the previous blog post, we collaborated with the largest chain of educational institutions in the world, the DAV society. We are extremely proud to be the Digital Media Partners for an entity whose legacy continues to live on since generations – DAV Society. The gigantic size of the organisation left us in utter amazement when we first heard about it. But, this is what got us excited about it too! After days of brainstorming and sipping uncountable coffee mugs we planned the way forward for DAV Society and Nayi Disha Naya Sankalp.
As the hospitable DAV administration opened the doors of their hearts to welcome the members of its pedigree, the who's who of different fields thronged the JLN Stadium to witness the historic moment. The power of 40 lakh alumni compelled the Prime Minister of India, Shri Narendra Modi to join them at the celebrations of Swami Dayanand Saraswati's birth anniversary on Feb 14. Being the charismatic orator that Mr Modi is, he entranced the crowd word by word. He shared his plans to build the India that he always dreamt of with DAV family. Talking about tremendous growth in the educational and economical sector and over all development of the nation, we stood there firm with pride and vigour.
It was an entrancing experience for the attendees and also for those who watched the ceremony live on DD national or followed DAV Society on Twitter. Such was the aura that even the DAV alumni from Team OMLogic shed a few tears of joy and nostalgia as they greeted and chatted with their teacher educators from DAV. They relived their past as they united once again like the old days from school. Definitely a moment to cherish!
Team OMLogic tweeted live from the event sharing moments of glory, words of wisdom and larger than life photographs. Connecting DAVians living far and wide, spread across the globe. Celebrities like Anupam Kher, Richard Rekhy, Amish Devgun and Sushma Swaraj tweeted about Nayi Disha Naya Sankalp and couldn't stop praising the efforts of DAVians
All is well that ends well! Brimming energy of the DAVians, immense support from Team OMlogic, fantastic sponsors and of course the iconic Prime Minister of India; proved this one as milestone for the DAV Community and OMLogic, both!