NASSCOM MarTech: The Event That Was
on
Sep 07, 2017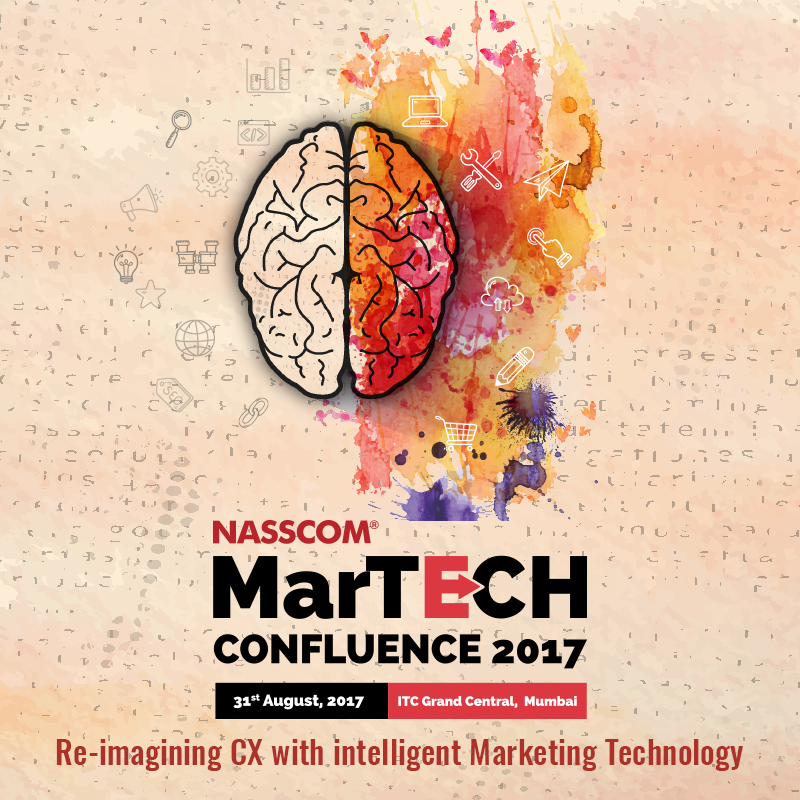 It was raining in and out. While the rains outside made citizens question the word, 'development', the raining insights at NASSCOM Martech 2017 confluence saw marketing technologists, marketers and digital leaders come together and explore the exciting potential of newer technologies for intelligent marketing.
The agenda for this year was 'Re-Imagine CX with Intelligent Marketing Technology'. The intent was to present rich case studies on how global and Indian companies are leveraging intelligent marketing tools to transform their businesses. The one-day event hosted at ITC Grand Central, Mumbai, also talked about the changing role of CMOs in a multichannel approach to customer experience.
As the social media partners for NASSCOM Events, we had a fantastic time covering the event live and talking to the speakers and delegates. Here are some of the key learnings from the event:


'Not just insights, it's how you incite', Josy Paul, Chairman, BBDO India explained it quick with Pecha Kucha. It was the second time that this Japanese way of storytelling made its way to MarTech confluence. You might be sitting on a data dynamite but unless you know how to use it to inspire and trigger apt actions, it's completely useless.
Content is King but context is King Kong! You may have amazing content but until it is amplified to the right target group with the right context, it's vain. Your story needs to become their story for amplification to happen.
Video marketing is no more constrained to creating impact. It now extends to motivating actions. If your video storytelling lacks the ability to steer action, you are in a mess.
Marketing is about influencing the influencers. This is the age of micro influencers. A brand needs to influence these influencers to market the brand's products/services. Use the power of influence to generate best ROI.
Try, buy and dispose is the trend. Call it the Tinder effect, but consumers are serial dating with brands. Hence, just being available won't help brands, they need to become accessible. A brand becomes a rage when it is at arm's length of desire. Brands need to stay true to their personality and up their desirability quotient.
Staying fresh and staying new is the key. Keep experimenting but, while you experiment ensure you are supported by data. Ensure there is productive use of data to reach customer touch-points and learn how they are intertwined.
The only answer for scaling up is technology. While making technology their best friend, marketers and brands need to ensure that they are interactive not interruptive. Invading the privacy of a customer and coming out as an interactive brand has a thin line that needs to be managed intelligently.
In this age of hyper-personalization, offering great customer experience is the key. Brands need to marry digital marketing, traditional marketing with product experience to build an effective brand. Understanding customer persona on real-time basis will be a game changer for marketers in the coming years.

Artificial Intelligence (AI) is the key enabler of intelligent marketing and data breathes life into it. Though external skills are required to implement AI, but the business knowledge should flow from internal teams. Brands need to remember, AI will work if the data is sorted and targeted. A fundamental change management is required for adapting to AI as it is no more a choice.

All marketing campaigns will be digital in the next 2-3 years. Digital transformation is a journey. Brands need to lead with customer experience. People, process and projects bring MarTech to life.
Here are some of the best moments from the conference.
So, while you are inspired about intelligent marketing technology, please do think about digital communications as a core entity. For each one of you looking at taking the brand's presence to the next level, we would be more than happy to plug digital marketing and change your business dynamics, and we for sure won't leave you wondering about social ROI. For more profound debates, feel free to
contact us
!