A Minor Change In Facebook Layout
on
Jun 02, 2016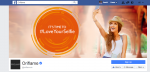 If you were always bothered by the size and placement of the cover photo that Facebook allows on a page, then it's time to rejoice! Facebook has made a minor change in the overall look of the cover photo which is bigger in height and width and does not have the display picture on top of it. Yes, you read it right!
Not only this, the new layout also provides page insights for admins right below the cover photo followed by the regular timeline.
Let us know of other changes you notice and what you think of this change in the comment box below.