10+ ULTIMATE EXITS
on
Sep 24, 2019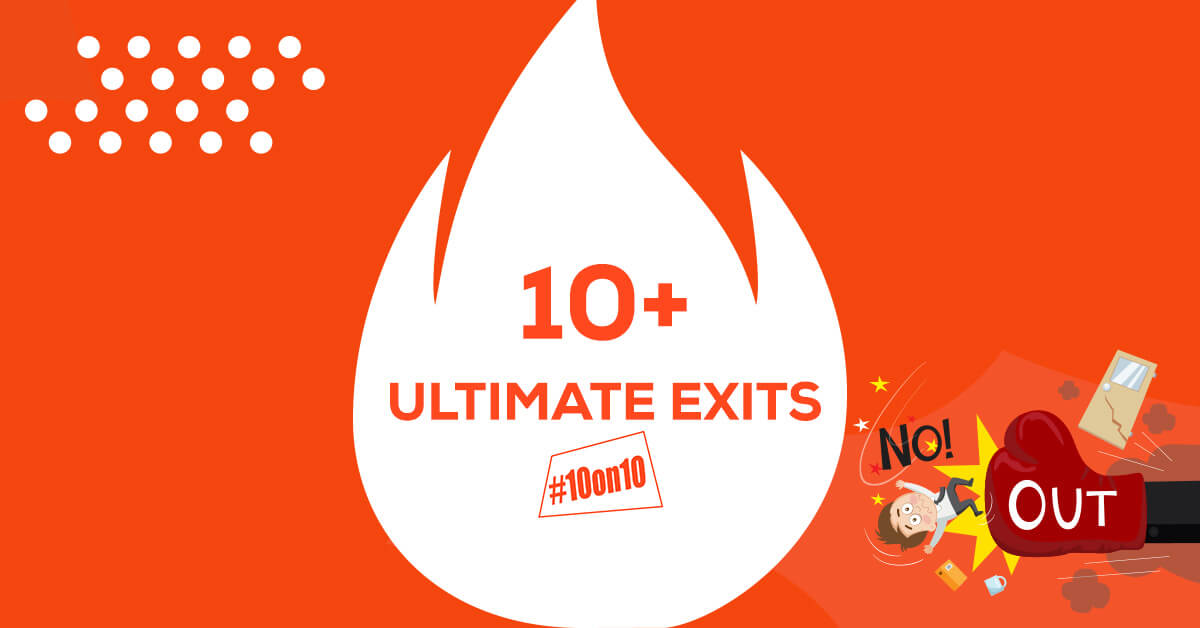 Exits are never pretty. An exit shows misalignment at the least and usually demonstrates someone as a loser (the other may not be a winner as well). Of course, we have had our own share of them over the years. While they may not have all seemed funny when they happened (some were really not funny), we can sure sit now and laugh/ponder at them. For the sake of their privacy (not ours), no names have been used.
A guy very confidently stands in the middle of the office while the boss is not there and says he is leaving early for the day since he has a freelancing assignment meeting. Did freelancing for a while beginning the next day!
A mobile phone gets stolen from office and a search operation is launched. We find the phone on the top of a wall in the men's room where no one would check. We fill up the top of the mobile with colour and keep it back. Coloured, found and fired. Interestingly, the guy was a well-paid designer with much lesser morals. BTW, stealing has claimed 3 careers in OMLogic and we have been extremely creative in setting traps to find the culprit every time.
Boy likes girl. Boy and girl date. Girl dumps the boy. The boy goes to therapy. Boy quits. Game over! BTW, picture abhi baaki hai…the girl does well in the company and the boy does well in his career.
An employee harasses a customer and keeps sending messages. He was thinking about her watching Ranbir Kapoor's Rockstar. Fired! We have fired another person for sexual harassment but that was due to Vishakha guidelines.
A social media executive is unable to confirm her forums due to some seeming emergencies at home. She informs the CS who saves her by falsifying the report. Once it's discovered, the executive is asked to pick-up work on her forums and the CS is asked to pick-up his termination notice.
2 people freelancing at work. One of them had to send an assignment to the other person and mistakenly sends to a different employee. Both fired instantaneously. The irony was they were writing articles/blogs for a customer and they both couldn't write to save their life as per our standards.
An employee and a boss both are very close to each other and are blamed for favouritism by everyone around. Office says – we don't care what's going on, just NO favoritism. Struggle, burn, quit the same day and both join the same office. Of course, there was no favouritism!
I love him. I am getting married. I shouldn't get married, eats sleeping pills. Gets married. Hires a replacement with little to no interview and leaves. Interestingly, the person she hired becomes one of the most important parts of OMLogic. The first person gets divorced in a year.
 An employee threatens she will quit. Gets consoled. She threatens again. Gets consoled again. She threatens the third time. Well, third time is a charm. We say "Get the FO".
An admin staff forgets to go somewhere to pick up a government refund check, which gets delayed for 6 months. Check worth Rs 82 Lacs. Hell fired!
Women related issues: A driver complains he can't take money from a woman, in this case, our HR. We ask him to leave. He calls and comes back to talk. We listen to all his complains and say "Thank you for sharing. These are all genuine, valid concerns. Our promise to you, nothing will change from tomorrow. He looked at us in disbelief. Of course, we separate. BTW, such inability to take directions from women has claimed more people as well.
This last one is a little difficult to put in words for the weirdness of it. But we will keep it simple here. Regionalism at work meant that a Jaat admin had a tiff with a Bihari peon. The day was a Friday – Brazil vs Portugal match in 2010 world cup. The only day they were left alone at the office early evening. They fought over whether a table should be cleaned on Friday or Monday. One beat the other, cops are called, a doctor visit is needed and the Bihari gets plastered.  Next few days see a group of Biharis visit the office to beat-up the Jaat and a group of loha mandi Jaats visiting to beat up the Bihari. Both fired. (This one didn't end here. The Jaat sent an observer posing as an employee for a few months and anything more will be too weird to elaborate here. It will need you to have a beer with our CEO who can tell you all about it.
Who is the "most off" in OMLOGIC ? - 10/10 The Next Digit !