10 on 10 – The Next Digit!
on
Sep 19, 2019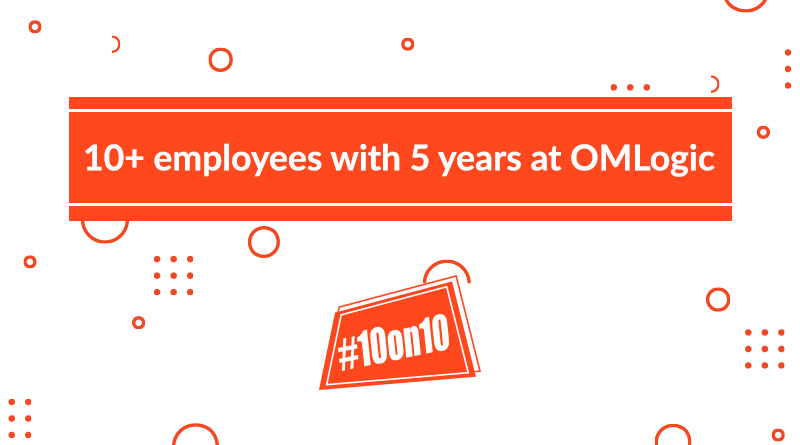 Hard to imagine it's been 10 years. 10 years when some of us against all the odds took on a setup with Rs 2 lacs of revenue, Rs 5 lacs of expenditure and an outgoing set of people doing frauds and everything else to bring us down.
While some will look at us as a modest setup, what we have achieved during these 10 years is miraculous considering where it all started and what all we refused to do. This is the first of a series of wow-logs we will write over the next few days in the run-up to our 10 years.
We take pride as one of the most ethically driven, trustworthy company, which always puts its beliefs above everything else. And what made this truly possible are the people. Those who have been a part of this journey and some of those who left us midway.
We have always tried to create a company that puts employees first (except in critical customer situations where customers take priority). The fact that we have no hawks or investors makes it much easy for us.
We have never believed in the concept of 10X engineers. For us, they are unstable, come with a lot of baggage and end up spoiling the culture of the company. We have always believed in strong people who are aligned to the overall culture and growth of the company. To this extent, we have a lot of people who work here, go away due to misalignment and come back with realignment. Some call it a therapeutic expedition. This HR philosophy is one of the 3 most critical factors for the success of OMLogic as a company.
As we look today, we have 10+ people who have been associated with OMLogic for 5 years or more. It's amazing specifically considering our industry which has an extremely high degree of promiscuity and attrition. Here are some who have chosen to make OMLogic their own:
Kapil Gupta: The founder and forever high-on-life person who started it all. Always there and will always want to be there.
Sumit Srivastava: He joined OMLogic in 2008 and has been one of the pillars of strength over the years. He is part of the initial team that took on when the previous owners left. He moved out of OMLogic for a couple of years, during this time, to pursue other opportunities but joined us back eventually. He currently heads special projects at OMLogic.
Navita Berry: She was the first female we hired in October 2009 and has been a part of our family since then. She has taken some breaks for personal and family reasons over the years, but she has been with us as a well-wisher and friend all along. Seemingly a fake pistol, she can be a bazooka at times. With her, we started offering social media execution services to our customers, which is one of our core businesses now. She currently heads social media at OMLogic.
Nimish Arora: Nimish was the first web-designer who joined us on October 2010. With him, we started offering web-development capabilities. Such was the teamwork and strength that one of our first websites (for the world tour of Jagjit Singh) was completed in a record 36-hour straight run. He is an Art Director with us now in his third stint with OMLogic.
Rahul Kamal: Rahul joined us in 2011 and has been a key part of our SEO team. He joined as an executive and has moved from strength to strength along with OMLogic since then. With his bullet under him, he is an unstoppable force.
Ira Bhadoria: Ira joined us as an SMRE in 2012 and is currently the head of our content and design team. She is the way success should be measured for professionals. Her groundedness and ability to be straight on your face complemented with her maturity and a positive attitude makes her just the best fit for OMLogic.
Pawan Arora: Pawan heads technology with OMLogic. He joined OMLogic in 2013 and immediately gave us the edge to create great technology solutions and products. He also is a rehire who left us for a couple of years and is now back in full flow.
Surender Suri or Suri as he is known is a designer who travels from Faridabad to Delhi every day since 2013 and is an extremely shy and witty person (depending on whether you know him or not). True to his deadlines and fond of creative minimalism, he's known to crack some of the best designs in the closing hour! (something every digital agency badly needs!)
Gaurav Astavekra: Part of our core team since 2015, Gaurav is methodical, analytical and extremely well-planned part of a chaotic and seemingly unplanned OMLogic. His one-liners are an acquired taste for some but are an amazing part of him.
Abhash Jha: Abhash has been part of our SEO team since 2015. He has since taken on data analytics as well and is now a super number cruncher. He does well at work and tries hard in the gym. You can try matchmaking with him.
Manjeet Nirankari: Manjeet joined us in the Technology team in 2015 and has been helping create solutions since then. Currently down with Shaadi in April 2019 and a freakish bike accident in Feb 2019, he tries his best to be his old best self.
Saurabh Srivastava: Saurabh joined us in the design team in 2015 and is always available to eat anything you have. When nothing is working out, he is the 'jugaadu' you need. He knows and talks to pretty much everyone (pretty or not) who has ever been with OMLogic. You can call him for anyone's number.
Who is the most Thassebaaz Insaan in OMLogic? – 10/10 The Next Digit!