10+ Faux Pas
on
Sep 22, 2019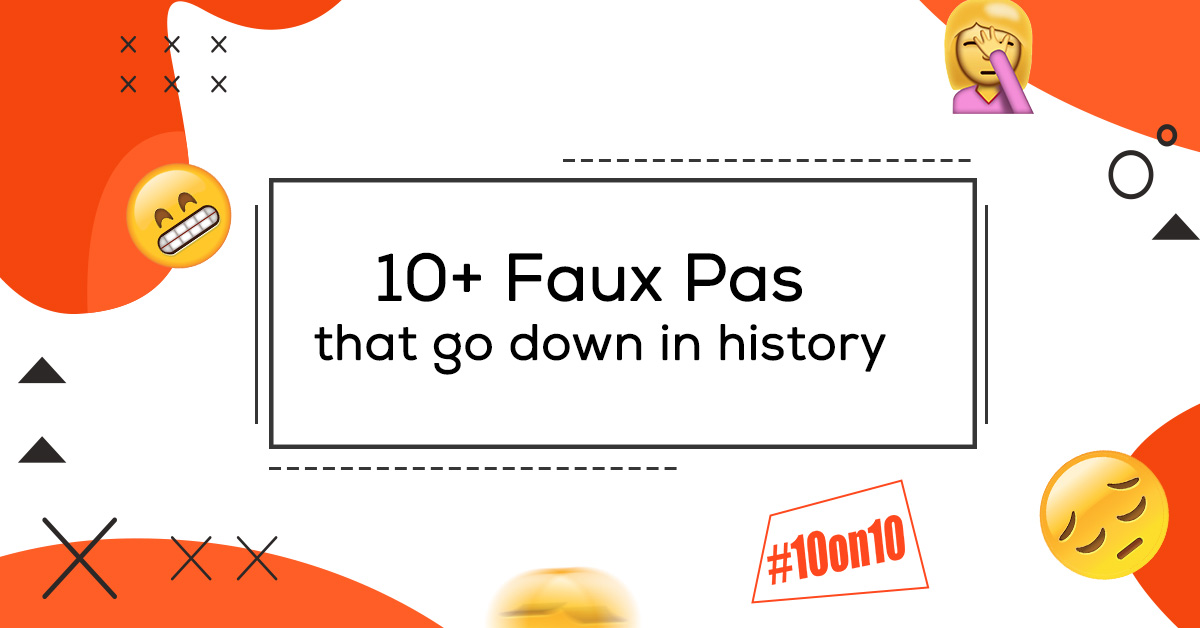 It's confession time! While we are proud of most of the things we have accomplished and the successes we have achieved, some of these faux pas make us prouder. They are the ones that keep us grounded. They are the ones that we laugh about at every party. We tried to ensure this blog is not about places we lost money in bad debts (trust that are too many of those). If you are one of those who didn't pay, relax. We won't embarrass you socially…for now!
Yeh ek pixel se off hai: The year was 2012, we were working with a US agency for an ethnic marketing campaign targeting Indians in the US. We showed a layout to the customer whose creative designer (Olga was her name) looked at it and said: "Please check, this alignment is off by a pixel". It was exactly one pixel off. We still don't know how she saw the one pixel off but it was just amazing.
We created a celebratory post for Indian defence forces for Vivo which featured a MIG plane. The customer's designer looked at it and said the image is wrong. See this protrusion, it's not an Indian MIG. It's middle eastern. Upon checking, we found that the designer's father was in the air force.
Showed a Buddha motivational quote as an engagement post to a customer with 3 dots to show a continuation of the sentence. The customer asked why the 3 dots and an overexcited CS said "Buddha ne teen dots ke saath he bola hoga (Buddha must have said with 3 dots)"
While working for Mansukh investment, gave a CPL campaign to a CPL company who got so many leads (of course fake and irrelevant) that the customer fired us. A good customer lost for a slight lapse in judgement and greed (after all we were the ones who recommended this CPL campaign)
We created an amazing website with all the right features for a customer and took it live with a Rs 1 crore+ media campaign with some big events. Long behold, the customer's server wasn't meant to take this much load and crashed and burned. Perhaps one of the most embarrassing moments of our career, even though the server wasn't ours. The customer was Vivo and the year was 2016. One of our largest customers.
Read the tender doc wrong for DIPR Punjab project and bidded annual cost in a 2-year column. Struggled through the project trying to deliver at 50% of the cost and eventually had to give up after 6 months
Boy likes girl. Boy and girl date. Girl dumps the boy. Boy goes to therapy. Boy quits. Game over! BTW, picture abhi baaki hai…the girl does well in the company and the boy does really well in his career
An employee gets married and has a 7-pound baby in the 7th month of his wedding. Comes to the office and says premature hai. Not sure which part but am sure there is a faux pas hidden in this somewhere
Presented a website design to a customer. The customer keeps complaining about the Red not being Red enough and the feel not being crisp enough. The colour on 2 Mac Airs, 1 Mac Pro and 1 desktop all look different. An interesting learning experience for us
An over the top centrepiece employee bets on eating 10 green chillies in 10 minutes. Successfully does it and remains out of the office for 3 days with stomach and downward from stomach troubles
A rumour goes around the company that 1 senior employee and 1 junior person were seen in the office in 'Action' and the office is set abuzz. Upon peeling through the onion, it's determined a girl started the rumour and innocently claims "so many people do gossips, what if I did one". Of course, explaining the difference between gossip, rumour and fact is no use.
An admin in-charge was asked to sit in the previous office for 3 days since an income tax refund check of Rs 82 Lacs (Rs 8.2 million) was expected. He nonchalantly forgets and pushes us at least 2-month back as a company (The amount is that big)
Upon successful completion of a huge customer event, we don't post anything on it for 15 days. Perhaps the team was napping. Upon enquiring, the lead said, "The page needed breathing after so many posts".  Should have been fired right away but we didn't.
Who is the CHACHI at OMLogic? – 10/10 The Next Digit!