10 Epic Excuses
on
Sep 20, 2019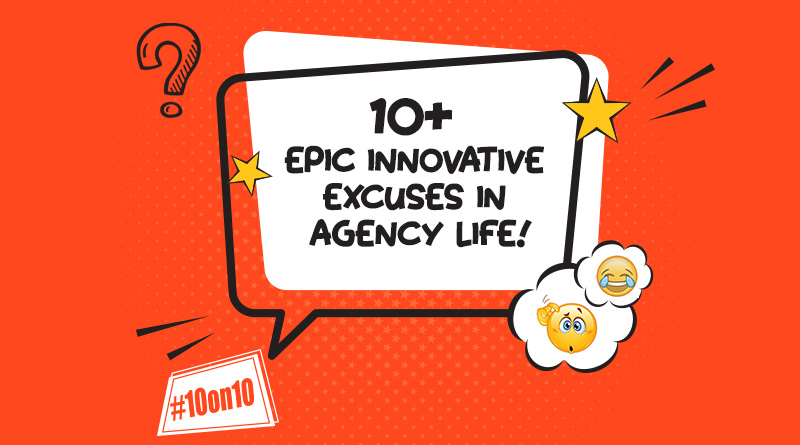 We all have been there, Monday morning blues and any night hangovers are the worst enemies of a company's HR. Usually, people work through it but sometimes you find these 'people' who love to make epic excuses to get out of coming to work. Interestingly, for some of the low-lives at OMLogic, we like coming to office when we are sick since this is the only place we get to relax!
1. Pet me dard hai (I have a stomach ache)
Favourite Monday morning excuse, for all the weekend party ravers.
2. Ghar me koi beemar hai (Someone fell ill at home)
The one excuse you can never say no to.
3. Papa ne subah subah property ka kaam bola (Dad gave me an urgent work in the morning)
Misusing your perception as a daddy's kid.
4. Home town me emergency hai (Have to visit hometown urgently)
The quick fix for saying 'Not coming to work and don't disturb'.
5. Mere yahaan barish ho rahi hai (It's raining at my place)
Now no one can actually blame nature or Delhi's infrastructure, or can they?
6. Kawars/ muharram/ganpati/ nirankari/ janmasthami/ juloos ke chakkar me late hogaya (Got late due to stupid people)
Geeta can say whatever about doing Karma!
7. Aaj period ka first day hai (I have cramps)
There is an official bill pending in parliament for this. How can we??
8. Sar me dard hai (I have a headache)
For those who've never experienced headache, keep wondering.
9. Body/mind thak gaya hai (My body and mind are exhausted)
You need a Goan rejuvenation?
10. Hangover hai - kal office mein...
We party so much that it's difficult to resist.
Who is the biggest Foodie of OMLogic: – 10/10 The Next Digit!